I can't connect to my Live Lesson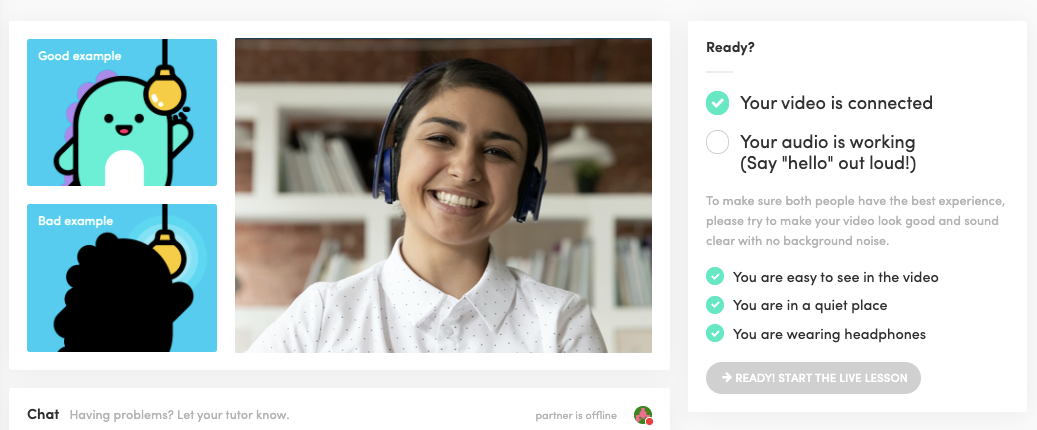 If you're stuck in the Chat Check and struggle to connect to your lesson, here are some troubleshooting techniques you can try.
Device and Browser
You should be on desktop to take a lesson. Live Lessons are not yet supported on mobile devices and you will not be connected to the session until you log in from a laptop or computer.

We recommend using Chrome for your Live Lesson

Restart your computer and see if everything checks green in the Chat Check room before joining the lesson again.

To start the lesson, you'll need to pass another chat check in the Waiting Room and click on the red button that reads 'Start Lesson'. Voilà!
Sound & Video
If the video or audio check marks don't turn green in the Waiting Room, it could be that you did not allow Chatterbug access to your webcam, speakers, or headphones.
For Chrome:
Click on the site identity icon (the lock symbol) in the address bar. On my screen, the default settings for the camera and mic are "Allow", but if that's not the case for you, proceed to the following steps.
Scroll down in the drop-down menu and click on 'Settings'

Choose "Allow" for the Camera and Microphone.
Hit the refresh arrow icon to reload the page.
Internet Connection
The sound, video, and connectivity issues are often due to the quality of your internet. You can move closer to your router to stabilize your connection. Use Speedtest to test the quality of your connection. Anything above 10 Mbps allows you to have an ok live lesson, but the higher the Download/Upload rates, the better your experience.
If the issue is ongoing, you should discuss solutions with your internet provider.
If we did not answer your questions here, please write to us via Chat or email at hello@chatterbug.com.
---
---